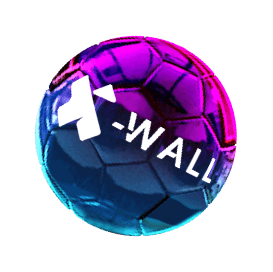 Train your skills with the X-WAll
SPORT games
The X-Wall is an interactive gaming wall to train your brain as well as your body. The educational games with different levels are fun and exciting for everyone! The games are especially suitable for holiday parks, campsites, indoor playgrounds and sports venues.



'Soccer Darts' is one of our most popular games. It can be played with a handball or football. Solve a sum and toss the ball at the correct answer to get 25 bonus points. Learning through movement has never been this much fun! Who's the new Michael van Gerwen?
Number of players: 1 to 2 players
Age: 6+
Always wanted to play 'Fifa' in real life? You now can on the X-Wall, with our very own 'Soccer Skill Game'. Besides football, you can also play handball or tennis.
Number of players: 1 to 2 players
Age: 6+
Hit as many squares as possible within 45 seconds. Choose an easy or difficult level by adjusting the number of squares. Players can pick from 6 themes in total.
Number of players: 1 to 2 players
Age: 6+
Hit as many targets as possible within 60 seconds. This is a fun game to practice aiming, while playing tennis. When the game is finished you can take a look at your score, your number of hits and the points you've received for speed. Are you going to get the new high score?
Number of players: 1 to 2 players
Age: 6+
Test you reflexes with 'Reaction Race'. The goal is to hit the wall as soon as the screen changes color. You can do this using a ball, your hand or any other object. Who's fastest?
Number of players: 1 to 4 players
Age: 6+
'Sports Trainer' teaches you how to aim even better. This game allows you to select the time and the target object of your choice. Hit this object as often as possible within the designated time and collect as many points as you can. Afterwards, you can see all the statistics. Did you improve your high score? This game is multifunctional and available for football, tennis, handball and any other ball sport.  
Number of players:  1to 2 players
Age:  6+
Innovative


gym classes for
your school!
Looking for an innovative way for moving learning? Then try the X-Wall for the most fun gym class for your school!
Math, learning a language, watching the clock or history? Learning has never been so much fun! The interactive wall challenges everyone with the fun educational games. Play against each other and see who is the smartest. Curious about the possibilities of installing the X-Wall at your school? Then request an online demonstration or a demonstration at your school.
"The X-Wall allows children to have an interactive gym class that is always fun and challenging!"
THE best
GYM CLASS

WITH THE X-WALL
The X-Wall offers many possibilities for a fun gym class. You can choose from multiplayer games and the X-Wall can even teach a class as your 'sports teacher'. The X-Wall provides enough activities to fill an entire gym class.
Every game has different levels. Which level of difficulty do you choose? The Math King Multiplayer game offers sums for elementary school groups 3 through 8. Too hard? You can easily go back a level.
Have fun with
moving

learning
The X-Wall combines learning with gaming as well as movement. Solving sums or hitting the right country on the map? Jump, run and spin to hit the right answers – it trains your brain and keeps you moving!
A unique

for every industry!
Want to rent/buy an X-Wall?
Are you curious about the possibilities of the X-Wall? We are happy to think with you!
The benefits of
playful learning
Request a demo
and it yourself
The possibilities are endless...
Curious about the possibilities of the X-Wall? Then you can request a free online demonstration. It is also possible to provide an on-site demonstration.